Blazed Holographic Gratings
Spectrum Scientific is one of the few companies in the world to offer a blazed holographic diffraction grating. A blazed holographic grating has had the sinusoidal profile transformed into a 'saw tooth' profile. This saw tooth profile increases the efficiency of the diffraction grating over the wavelength region of interest without increasing the stray light.
Spectrum Scientific uses a proprietary blazing technique which creates a blazed grating that demonstrates considerably lower stray light with equivalent or better efficiency when compared to ion-etched gratings. Currently this technique is limited to a blaze region of 200-300mm.
Our stock gratings are available in 12.5 x 12.5 mm and 25 x 25 mm sizes but we can supply our standard range of gratings up to 90 x 90 mm or greater. We can also design bespoke gratings for OEM applications if our standard gratings do not meet your requirement.
Spectrum Scientific offers a range of standard gratings. If we do not have a grating that meets your requirement, please contact our sales department as new gratings are manufactured on a regular basis.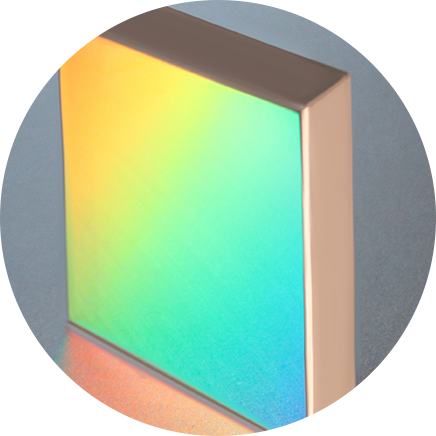 Blazed Holographic Gratings
Advanced Filter
Product Groove Density (g/mm)
Product Wavelength of Peak Efficiency (nm)
Product Wavelength Range (nm)
Product Apex Distance (inches)
Product Beam Deviation (arcsec)
Product Blaze Wavelength (nm)
Product Clear Aperture (mm)
Product Clear Aperture (%)
Product Deflection Angle (deg)
Product Deviation Angle (deg)
Product Dispersion (nm/mm)
Product Effective Fl (mm)
Product Peak Efficiency (%)
Product Spectrum Length (mm)
Compare
Part Number
Product Description
Price
Groove Density (g/mm)
Blaze Wavelength (nm)
Quantity
More

1200-240-012
1200 g/mm, 240nm Blazed Holographic Grating, 12.5 x 12.5 x 6mm
$125
1200
240

1200-240-025
1200 g/mm, 240nm Blazed Holographic Grating, 25 x 25 x 6mm
$185
1200
240

123-260-012
123 g/mm, 260nm Blazed Holographic Grating, 12.5 x 12.5 x 6mm
$128
123
260

123-260-025
123 g/mm, 260nm Blazed Holographic Grating, 25 x 25 x 6mm
$185
123
260

1440-250-012
1440 g/mm, 250nm Blazed Holographic Grating, 12.5 x 12.5 x 6mm
$125
1440
250

1440-250-025
1440 g/mm, 250nm Blazed Holographic Grating, 25 x 25 x 6mm
$185
1440
250

1800-230-012
1800 g/mm, 230nm Blazed Holographic Grating, 12.5 x 12.5 x 6mm
$125
1800
230

1800-230-025
1800 g/mm, 230nm Blazed Holographic Grating, 25 x 25 x 6mm
$185
1800
230

2322-300-012
2322 g/mm, 300nm Blazed Holographic Grating, 12.5 x 12.5 x 6mm
$125
2322
230

2322-300-025
2322 g/mm, 300nm Blazed Holographic Grating, 25 x 25 x 6mm
$185
2322
300

240-240-012
240 g/mm, 240nm Blazed Holographic Grating, 12.5 x 12.5 x 6mm
$125
240
240

240-240-025
240 g/mm, 240nm Blazed Holographic Grating, 25 x 25 x 6mm
$185
240
240

2400-250-012
2400 g/mm, 250nm Blazed Holographic Grating, 12.5 x 12.5 x 6mm
$125
2400
250

2400-250-025
2400 g/mm, 250nm Blazed Holographic Grating, 25 x 25 x 6mm
$185
2400
250

2880-240-012
2880 g/mm, 240nm Blazed Holographic Grating, 12.5 x 12.5 x 6mm
$125
2880
240

2880-240-025
2880 g/mm, 240nm Blazed Holographic Grating, 25 x 25 x 6mm
$185
2880
240

300-250-012
300 g/mm, 250nm Blazed Holographic Grating, 12.5 x 12.5 x 6mm
$125
300
250

300-250-025
300 g/mm, 250nm Blazed Holographic Grating, 25 x 25 x 6mm
$185
300
250

3600-250-012
3600 g/mm, 250nm Blazed Holographic Grating, 12.5 x 12.5 x 6mm
$125
3600
250

3600-250-025
3600 g/mm, 250nm Blazed Holographic Grating, 25 x 25 x 6mm
$185
3600
250

4200-250-012
4200 g/mm, 250nm Blazed Holographic Grating, 12.5 x 12.5 x 6mm
$125
4200
250

4200-250-025
4200 g/mm, 250nm Blazed Holographic Grating, 25 x 25 x 6mm
$185
4200
250

600-240-012
600 g/mm, 240nm Blazed Holographic Grating, 12.5 x 12.5 x 6mm
$125
600
240

600-240-025
600 g/mm, 240nm Blazed Holographic Grating, 25 x 25 x 6mm
$185
600
240