Flat Field Concave Gratings
Spectrum Scientific's flat field imaging concave gratings have grooves that are neither parallel nor equidistant. This type of concave grating is designed to minimize astigmatism and coma. This makes an aberration corrected concave grating ideal for use with planar array detectors such as photo diode arrays (PDA) or 2D array detectors such as charge coupled device (CCD) detectors. The imaging properties of the grating also means that multiple sources – such as fibre inputs – can be imaged simultaneously onto the entrance slit and each signal read out separately onto a 2D detector or a number of stacked array detectors.
Spectrum Scientific is one of the few companies in the world capable of manufacturing high quality blazed holographic concave gratings. Our proprietary technique allows us to optically blaze concave gratings without ion-etching which results in high peak efficiency and low stray light
Spectrum Scientific offers a range of standard gratings. If we do not have a grating that meets your specification, please contact our sales team to discuss your specific requirements.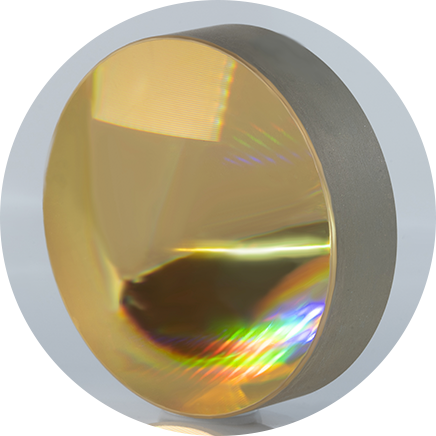 Flat Field Concave Gratings
Advanced Filter
Product Groove Density (g/mm)
Product Wavelength of Peak Efficiency (nm)
Product Wavelength Range (nm)
Product Apex Distance (inches)
Product Beam Deviation (arcsec)
Product Blaze Wavelength (nm)
Product Clear Aperture (mm)
Product Clear Aperture (%)
Product Deflection Angle (deg)
Product Deviation Angle (deg)
Product Dispersion (nm/mm)
Product Effective Fl (mm)
Product Peak Efficiency (%)
Product Spectrum Length (mm)
Compare
Part Number
Product Description
Price
Groove Density (g/mm)
Dispersion (nm/mm)
Quantity
More

164-1500-045
164 g/mm, 1500nm Flat Field Concave Grating
$550.00
164
32

378-215-034
378 g/mm, 215nm Flat Field Concave Grating
$550.00
378
24.1

406-150-034
406 g/mm, 250nm Flat Field Concave Grating
$550.00
406
24.4

470-250-040A
470 g/mm, 250nm Flat Field Concave Grating
$550.00
470
21.3

470-250-040B
470 g/mm, 250nm Flat Field Concave Grating
$550.00
470
22.6

719-900-030
719 g/mm, 900nm Flat Field Concave Grating
$550.00
719
16

954-300-030
954 g/mm, 300nm Flat Field Concave Grating
$550.00
954
12.2