Sinusoidal Holographic Gratings
Spectrum Scientific's holographic gratings are produced using interference lithography. This process results in a smooth groove surface and eliminates the periodic errors found in ruled gratings. Because of this, holographic gratings are commonly used in applications where stray light is a concern.
Sinusoidal groove profiles are the most common groove shape for holographic gratings. The grooves are symmetrical and therefore have no blaze direction. A sinusoidal grating offers a wider spectral coverage compared to a blazed grating, but has lower efficiency.
Our stock gratings are available in 12.5 x 12.5 mm and 25 x 25 mm sizes but we can supply our standard range of gratings up to 90 x 90 mm or greater.
For volume pricing or custom designs, please complete our Request Information form or contact our sales team to discuss your specific requirements.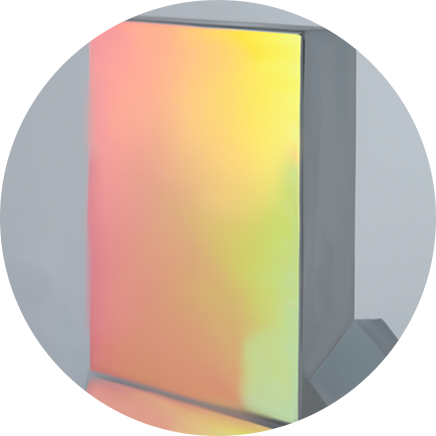 Sinusoidal Holographic Gratings
Advanced Filter
Product Groove Density (g/mm)
Product Wavelength of Peak Efficiency (nm)
Product Wavelength Range (nm)
Product Apex Distance (inches)
Product Beam Deviation (arcsec)
Product Blaze Wavelength (nm)
Product Clear Aperture (mm)
Product Clear Aperture (%)
Product Deflection Angle (deg)
Product Deviation Angle (deg)
Product Dispersion (nm/mm)
Product Effective Fl (mm)
Product Peak Efficiency (%)
Product Spectrum Length (mm)
Compare
Part Number
Product Description
Price
Groove Density (g/mm)
Peak Efficiency (%)
Quantity
More

1200-700-012
1200 g/mm, 700nm Holographic Grating, 12.5 x 12.5 x 6mm
$85
1200
69%

1200-700-025
1200 g/mm, 700nm Holographic Grating, 25 x 25 x 6mm
$125
1200
69%

1300-800-012
1300 g/mm, 800nm Holographic Grating, 12.5 x 12.5 x 6mm
$85
1300
70%

1300-800-025
1300 g/mm, 800nm Holographic Grating, 25 x 25 x 6mm
$125
1300
70%

1740-1053-012
1740 g/mm, 1053nm Holographic Grating, 12.5 x 12.5 x 6mm
$85
1740
94%

1740-1053-025
1740 g/mm, 1053nm Holographic Grating, 25 x 25 x 6mm
$125
1740
94%

700-1100-012
700 g/mm, 1100nm Holographic Grating, 12.5 x 12.5 x 6mm (S-Pol)
$85
700
66%

700-1100-025
700 g/mm, 1100nm Holographic Grating, 25 x 25 x 6mm
$125
700
66% (S Pol)